Lee shines in women's day award
08 March 2023
In the news
Reward and recognition
A Perth principal dedicated to making a difference to the lives of students and their families has been recognised as part of International Women's Day celebrations.
Challis Community Primary School principal Lee Musumeci was awarded the Department of Education's Women of Achievement Award.
Ms Musumeci was one of five finalists for the award that celebrates women with quality leadership skills who strive to achieve excellence in public education.
In her 20 years leading Challis Community Primary School, Ms Musumeci has committed to ensuring all students have what they need to thrive.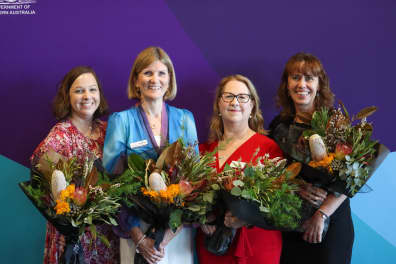 Her highlights included the school's music program, along with the programs she has put in place to support young families and assist students facing challenges.
"Some things I am most proud of at the school is our explicit teaching methods, our focus on Aboriginal students and their wellbeing, and the way we help support students who may be facing challenges to re-engage with their education," she said.
"We also have a fantastic music program that brings an enormous sense of pride to the school community.
"The school also builds strong relationships for parents and younger members of the community through the Challis Parenting and Early Learning Centre.
"In Armadale, what we've tried to do, particularly at Challis, is bring the resources to the people rather than expecting them to be able to navigate their way through a system that requires a lot of support to navigate your way through."
Ms Musumeci said she was humbled to have been recognised by the award for the work she does to empower her school community and thanked her team of educators for their work.
"Education is not about seeking individual accolades, it is about serving the community," she said.
"An individual acknowledgement is humbling, especially knowing the success of what we are achieving is due to the commitment of many staff who work towards the common goal.
"Although I get the accolades and the recognition which feels very uncomfortable, it's the staff who turn up for work every day, in some really trying circumstances and believe in what we're doing and commit fully to what we're trying to achieve. They're the people who I'd really like to highlight. The kids are magnificent, the families are magnificent, but it's the staff who make the real difference."
Access the event recording to relive the celebration