Green thumbs thrive through Patch to Plate
08 December 2022
In the news
Public school life
Dongara District High School students are celebrating 10 years of growing and selling their own produce through the school Patch to Plate program.
Established in 2012 by home economics assistant Yvonne Jenkins, the program encourages students to learn about the environment, gardening, and healthy eating, all while creating produce to sell in a community shop.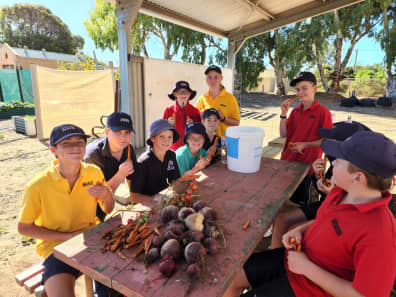 Rhiannon Lucas, Secondary Deputy Principal at Dongara District High School, said the students enjoy the satisfaction of waiting for their produce to grow, picking, and the preparation.
"The students love the garden program as they have ownership over a garden plot in a small group and it is their responsibility to ensure the produce is growing," she said.
Any student can be involved with the patch, with some having been involved with the garden for six years. Secondary students have the option to choose the Patch to Plate program as a class once a week to complete a Certificate II in Hospitality.
After students pick their fruit and vegetables, they prepare it to be cooked. The primary school students work with the Stephanie Alexander Kitchen Program to learn how the produce is cooked, preserved, and bottled so it can be sold in a shop.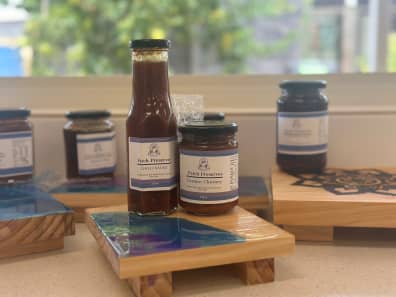 Once cooked and bottled, the items such as chilli sauce and tomato chutney are sold in a local pop-up which is run by community members and a volunteer school staff member.
Part of the money from the sales of the students' products are donated to the local hospital, local community events and to the school.
Ms Lucas said the success of the program and seeing the items being sold has encouraged students to become self-motivated entrepreneurs as students have the satisfaction of seeing the money raised go back into the community.