Club all it's clucked up to be
Vasse Primary School students are embracing the school's latest initiative – Chicken Club.
Chicken Club is the brainchild of Education Assistant Kylie Van Ranzow and is designed to help students build confidence and make friends.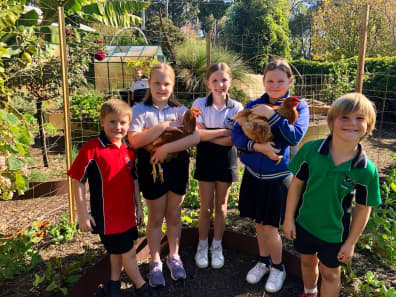 "In a large school environment, friendships can be hard," Ms Van Ranzow said. "I felt that there was a need for a unique club that could build confidence and help students with a feeling of belonging".
Three Rhode Island Red hens called Miss Cinnamon, Curry and Apple live permanently at Vasse Primary School.
Chicken Club runs every lunchtime on Wednesday and Thursday and is open to all students in the school to sign up.
Since its introduction during Term 2 this year, students from Year 1, 2 and 5 have become members of the club.
Ms Van Ranzow said the club was a great educational experience for students as they get to spend time with the chickens and learn about compassion, responsibility, and animal husbandry.
This term, they've focused on enrichment and how introducing treats and toys can benefit the hens.
Students have also learnt how to trim the chickens' nails and wings, identity the difference between healthy and sickly poo, correct holding techniques, what a balanced diet is and coop maintenance.
In this way, students have become advocates for the chickens and understand when they are showing signs of heat and distress.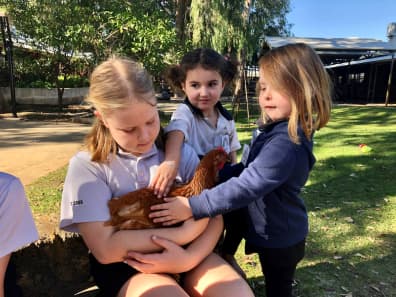 Ms Van Ranzow said spending time with the chickens also encourages students to learn about sustainable living practices.
"Keeping chickens is a start to living more sustainably," she said. "(They) help to eliminate scraps, produce a natural fertilizer, get rid of pesky garden pests, assist with composting, and provide fresh eggs."
Year 5 student Laycee Chandler said she was learning a lot in Chicken Club.
"I joined the club because I love animals and, at the start, I hardly knew anything about chickens," Laycee said.
"I've learnt how to hold a chicken, how to tell when it will lay, to always be calm around them, and they also love weeds."