What to consider when purchasing a new or second-hand classical guitar.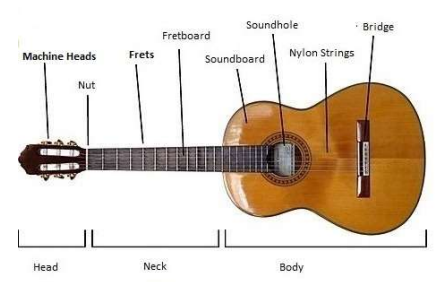 What to look for when purchasing a classical guitar:
A classical guitar has six nylon strings, three wound in metal and three clear.
Steel string guitars are not suitable and cannot be strung with nylon strings.
The guitar should be full size, not three-quarter or smaller.
Solid timber is recommended with a solid cedar or spruce top. Guitars made of wood-pulp may be difficult to tune and play, have poor tone quality and do not last as long.
The instrument should have quality construction around the joins, finish and woods used, with no cracks or open seams.
Folk, jazz or electric guitars and not suitable for classical guitar lessons.
Prices can vary depending on the brand and model. Based on our experience we have found the following brands to be of sound construction; Yamaha, Esteve, Cordoba, Katoh and Alhambra. This is not an exhaustive list and you may find other brands to be of a similar quality.
Our guide to left-handedness and playing the guitar explains our approach to teaching left-handed students.
You may also need to get:
a classical guitar footstool, metal is best
a guitar tutor book. Your child's teacher will let you know which one you need.
a guitar case
a music stand
spare, good quality, nylon classical guitar strings.
For further advice you can consult with your child's teacher.
Equipment and expenses
Once your child has committed to the music program, you need to make sure your child has all the necessary equipment they need.
Your child will be provided with a student music journal and you need to provide:
a tutor book for school
a music stand for home
a suitable case
accessories such as reeds, strings, rosin, cleaning products
repairs and maintenance on owned instruments.
Some schools may also charge a small fee to cover costs associated with the program.