Brass - trumpet and trombone
Things to be aware of when purchasing a brass instrument:
Instruments usually come with a mouthpiece and an instrument case.
There should be at least one water key.
Trombones should have a slide lock.
Trumpets have a finger ring or trigger on third valve slide. Better quality instruments also have a saddle or trigger on the first value slide.
Silver plating, lacquer and untreated brass finish is a personal preference.

Silver instruments are silver plated and are usually more expensive. The finish protects the instrument very well and lasts for many decades.
Gold coloured instruments are lacquered brass. They need extra care to keep the appearance attractive but can be cheaper than silver.

Make sure the instrument blows well and suits your child.
If the instrument is second-hand you should also check that:
the mouthpiece has no chips, dents (especially on the shank), scratches on the rim or dirt in the throat
all tuning slides work easily
trumpet valve caps and bottoms unscrew easily and the valves work easily. Take out the valves for inspection, worn plating is a sign of excessive wear.
trombone slides must work freely and have no dents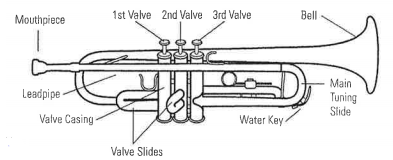 Equipment and expenses
Once your child has committed to the music program, you need to make sure your child has all the necessary equipment they need.
Your child will be provided with a student music journal and you need to provide:
a tutor book for school
a music stand for home
a suitable case
accessories such as reeds, strings, rosin, cleaning products
repairs and maintenance on owned instruments.
Some schools may also charge a small fee to cover costs associated with the program.