Applying, Payment Options and Fees
Apply for a place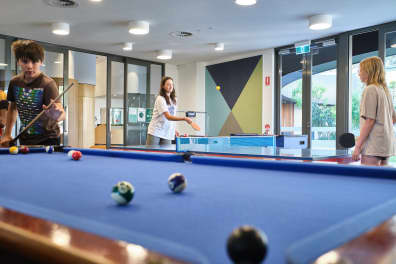 Receive an offer for a Gifted and Talented program
If you have been offered a place in a Gifted and Talented program, you can apply for a residential place at City Beach Residential College.
You are welcome to make contact with the College to arrange a personal tour of the facilities. Talking with staff and students already part of the residential college community is also a good way to learn more about college life. Contact us to find out more:
T: 9237 7500
E: CityBeach.ResCol@education.wa.edu.au
Apply for a place
Download an Application for a residential place, or contact us and we will send one to you.
Submit your completed application to us for assessment, including payment of the $50 application fee.
Assessment of your application
Our College Manager may request a meeting with you and your child. We may ask for additional information, or contact past schools or other individuals as part of our assessment.
We will inform you of the outcome of your application at the earliest opportunity.
Complete and sign the Boarding Agreement
If our College Manager offers you a place, we will invite you to enter into a boarding agreement. See a sample boarding agreement.
Return the signed boarding agreement, the associated documentation and the $300 bond to accept the offer.
Payment options
In person

Phone

Mail

Bank transfer

cash
cheque
eftpos, Mastercard or Visa

22 Kalinda Drive,
City Beach WA

(08) 9285 2672
8.30am to 2.30pm,
Monday to Friday

22 Kalinda Drive
CITY BEACH WA 6015

BSB 066-130
Account 10251454

Use student name as reference
Fees and financial assistance
There is a standard accommodation fee of $14,823 at all residential colleges. It covers the bed, meals, facilities and pastoral care of each student. It is payable by the student's parent/s.
The full cost of boarding to the Department of Education is $25,625.
If students are eligible for further allowances/subsidies, the accommodation fee could be reduced:
Recipients
Estimated Fee
Assistance for Isolated Children Scheme (AIC) and Boarding Away from Home Allowance (BAHA) recipients
$4946
AIC and BAHA recipients who are also eligible for the additional AIC allowance


$2492

(subject to an income test)

Youth Allowance recipients
Varies (subject to an income test)
ABSTUDY
No cost (subject to an income test)
Gifted and Talented Secondary Selective Entrance Boarding Allowance recipients
$13,503
In addition to the accommodation fee, amounts are charged to cover individual services provided at each residential college. Individual services may include, but are not limited to, services such as transport, counselling, medical services, medical supplies, camps and outings.
To find out more about your eligibility for these allowances and subsidies, download the Residential college costs factsheet.