WA educators shine in national award
Two Western Australian educators have been recognised in a national teaching award for providing exceptional learning opportunities for remote students.
Marble Bar Primary School principal Shane Wilson and Christmas Island District High School science teacher Kylie Chatfield were named award winners in the 2022 Commonwealth Bank Teaching Awards, run in partnership with Schools Plus.
The awards recognise the excellent teachers and school leaders who make a transformative and measurable impact on their students and school communities.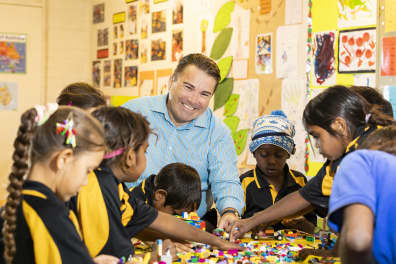 Mr Wilson was selected for a prestigious teaching fellowship for his work developing Marble Bar Primary School to be a state leader in culturally responsive science, technology, engineering, and maths (STEM) education.
The school, located in WA's Pilbara region, provides unique learning opportunities for students with a focus on using virtual reality and drone technology to showcase Aboriginal language and culture.
Mr Wilson also works closely with the local Nyamal people and other community groups, encourages students to take pride in their culture, and creates STEM pathways for students in school and beyond.
Mr Wilson said he was honoured and proud to be selected for the award.
"The award is a celebration of the exemplary journey of Marble Bar Primary School that I have been privileged to lead for more than five years," he said.
"Two-way leadership, teaching and learning is the vehicle for enabling our community's voice to be heard. We work together to preserve, celebrate, and share the East Pilbara's first culture, history, and language.
"Sharing our nation's cultural diversity within and beyond Australia using innovative STEM pedagogy is a wonderful career highlight and I thank all of the people who have had a significant and long-lasting impact on my work as a teacher and school leader."
Kylie Chatfield was named one of 10 winners from across Australia in the Early Career Teacher category.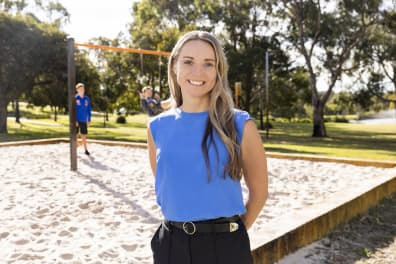 Her classroom lessons are centred around the island's unique ecology, encouraging students to develop an appreciation of where they live.
Ms Chatfield, who previously worked as a marine officer, has helped develop a junior ranger program where students take an active role in preserving their local environment for future generations with a focus on sustainability, conservation, rehabilitation, and tourism.
She has also introduced hands-on learning activities including fish identification treasure hunts and coral bleaching simulation models, and plays a key role in coordinating Seaweek which is an annual community event.
Ms Chatfield said it was both overwhelming and exciting to be recognised in the awards and thanked the school community for enabling her to thrive in her role.
"Being recognised provides you with the confidence to have a voice to advocate for what you are passionate about," she said.
"I aim to support every student through enriched learning environments with more real-world experiences to empower.
"I want them to feel confident leaving school as valuable citizens within their local community, or to take a step outside their community boundaries and follow their own passions."