Read the latest updates as we build Bob Hawke College.
Project update: December 2019
Bob Hawke College is on track to welcome the first intake of 250 Year 7 students in February 2020.
Uniforms have been designed, teaching staff employed, library shelves stacked and classroom furniture is arriving daily.
Final touches are being applied to the school building and landscaping is well underway.
More than 2500 people have worked close to 348,000 hours over the last 18 months to deliver Stage 1 of what is the first high-density public secondary school in Western Australia.
The College has been built over four levels and includes 1500 tonnes of steel and 10,250 cubic metres of concrete.
There are 58 classrooms, a 912m2 multi-purpose sports hall with soaring 7m high ceilings, a 150-seat lecture theatre, state-of-the-art library, plus a multi-purpose gallery designed to be visible from Roberts Road.
Quite simply, the College is extraordinary.
Project update: October 2019
Construction of Bob Hawke College in Subiaco is close to completion!
Project update: September 2019
Construction of the College is on track with a number of areas already completed including the design and technology area, administration, library, staffroom and car park.
When complete, Bob Hawke College will have world-class facilities including science and technology laboratories, an auditorium, administration and student services, a cafeteria, landscaped courtyards, multipurpose playing courts and a performing arts centre.
The demolition of the Subiaco Oval grandstands is also well underway. Visit the LandCorp website for progress and vision of the demolition project.
Project update: July 2019
Bob Hawke College takes shape in this latest time-lapse video of the construction site in Subiaco!
Project update: March 2019
Check out our latest time-lapse video showing the construction at Inner City College site. We're still on track to open in 2020!
Project update: December 2018
Watch our amazing time-lapse video showing construction at the Inner City College site. We are on track to open in 2020.
Project update: August 2018
Commencement of main works
Whadjuk Noongar elders Dr Richard Walley OAM and Neville Collard mark the commencement of works at Inner City College by conducting a traditional smoking ceremony.
Project update: July 2018
Main works contract awarded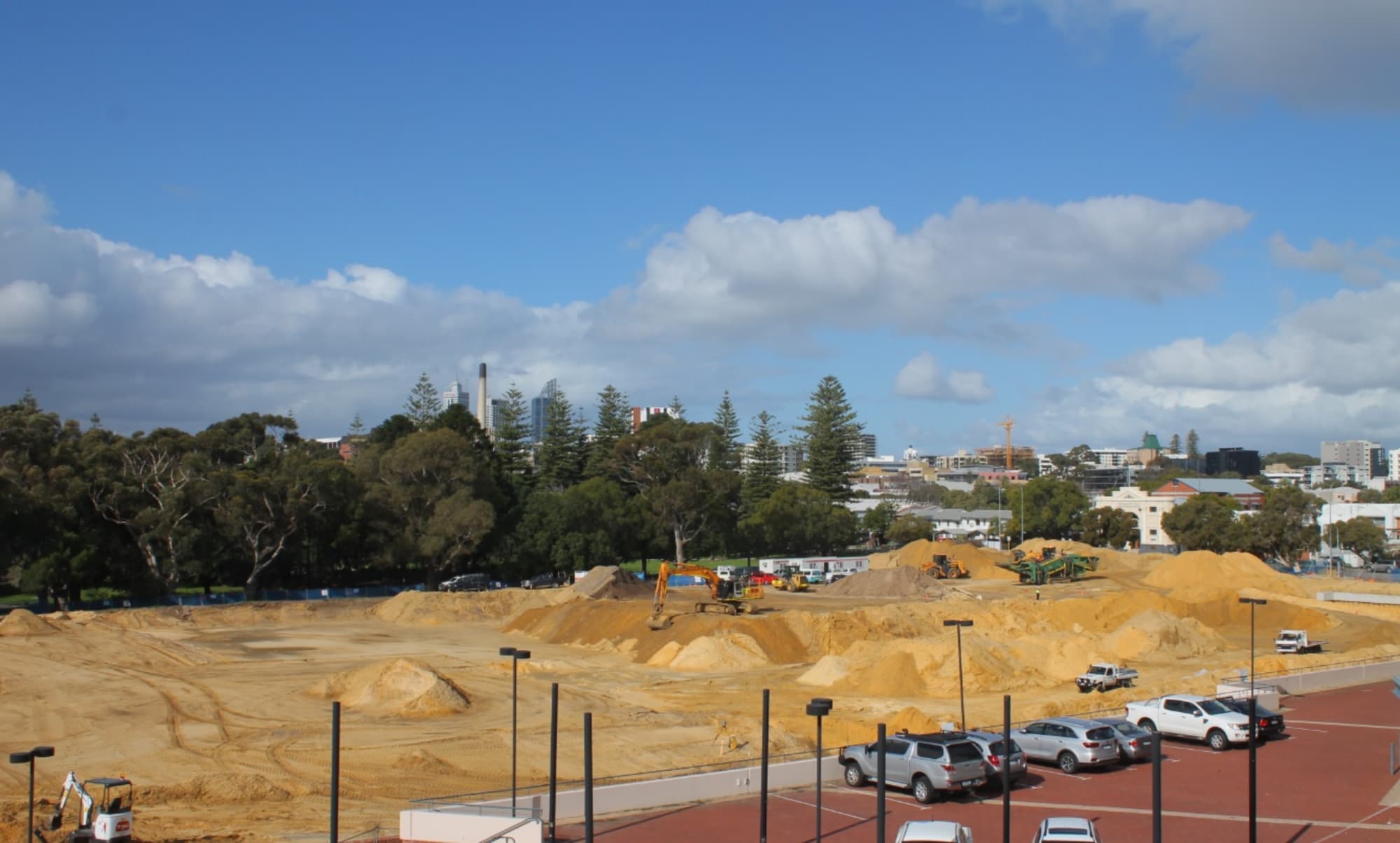 PACT Construction has been awarded the main works contract for the Inner City College. Having successfully undertaken the forward and enabling works (earth works) for the first stage of construction, PACT Construction has commenced the main works.
Project update: March 2018
Work to start on a new secondary school in Subiaco
A vibrant, innovative and imaginative secondary education for students – that's the vision for the new college in the heart of Subiaco opening in 2020.
It will provide families in the area with access to a brand new school for their children close to home with world-class facilities and equipment to support teachers and students.
Inner City College (planning name) will host the highly regarded Gifted and Talented Secondary Selective Academic Program, with a first intake of 32 students in Year 7 in 2020. Children from across the State can apply for this program.
With shared facilities, such as Subiaco Oval and the college's playing courts and gymnasium, it will play an integral role in bringing the community closer together.
The college is being designed with both its setting and its community in mind – an inner city education facility for families who embrace inner city living.
The college's environmental footprint will be minimised through the use of three and four storey buildings that are universally accessible and incorporate passive design principles.
Initially opening with 250 Year 7 students in 2020, the college will grow to around 2000 year 7 to 12 students by 2025.
Inner City College's first stage building program is estimated to cost $68 million.
The forward works for this stage include site preparation to allow construction of the main works for the new college. An experienced civil works contractor will undertake this work.
We will provide regular information to Subiaco residents and businesses through these project updates.
The college is part of the exciting new Subi East renewal project that will transform Subiaco Oval surrounds and the Princess Margaret Hospital site into a vibrant place for living, learning and leisure.
To find out more about Subi East visit mra.wa.gov.au/subieast.
See the site plans, floor plans and sectional perspectives of Bob Hawke College.

Download Size: 2.6MB